Having your bookkeeping organized will save you money and time while making your business more successful.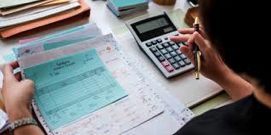 The most important part of any small business no matter how small or large it is its financial integrity. Having efficient management of your business bookkeeping can help with the success of the business. Keeping everything in order should be an achievable goal that will not only save you time but also save you money. While this is something that does take time to organize, once complete it is invaluable to your business.
Separate Your Business and Personal Finances
Many small business owners have a hard time separating their personal finances from their business finances. In actual fact, most owners will only use one account for both when just starting out.
Mixing your personal and business finances is a recipe for disaster because if you don't separate your finances, you won't have a clear picture of your business's economic health. You could end up wasting time going through bank records trying to establish deductible expenses during tax season. Keeping your finances separate could also provide protections and will make it easier when you sell the business.
Track All Transactions
Keeping clear and accurate records of all of your transactions is very important to identifying your financial status. All businesses should keep record of all business transactions. Consider scheduling a weekly appointment to organize and review your finances.
Use Accounting Software
Believe it or not, there are still people out there that use the old Ledger System to record their business finances. While this is a tried and true means of bookkeeping, you might want to consider using one of the various affordable and high-quality software options that are out there. While you may save some money doing everything on paper, the time that you will save by using the software because it is easier and more precise than paper and pen.
Accounting software also maintains your records in one place rather than scattered around the office. It is important you seek a user-friendly software that offers excellent customer support.
Hire a Professional Accountant/Bookkeeper
While not everyone needs to engage in professional services, you may find out that your business and personal tax situation demands some assistance. A strong professional accountant/bookkeeper can help you discover ways to capitalize on business deductions and find other ways of maximizing your return.
A professional like this will also help you calculate estimated and self-employment taxes, both of which are necessary for small businesses. A good professional will also stand by his or her work in the event you are ever subjected to an audit. You will quickly discover that outsourcing the tasks frees up your time for more important, revenue generating tasks.
Organize Your Paperwork
You will want to make sure that all of your paperwork is organized in an orderly manner. In this day and age, you can now scan the documents and store it electronically within your accounting software or a simply filing system. It is very important that you maintain a separate e-folder for each year and month.
Review Your Books Often
The most successful businesses have a clear understanding of their financial status and are constantly planning ahead. It is important that you examine your books frequently and avoid organizing last minute.
A professional accounting/bookkeeping firm can help you in this area by providing you with reports monthly that you can review and adjust accordingly.
Clarity Solutions is a Core Certified Elite Pro-Advisor firm with QuickBooks Online and we can help you with your accounting needs. We work remotely so we can work with any company by utilizing email, drop box and other programs that will help transmit documentation electronically. To find out more information please contact us by visiting our website www.claritysolutionsinc.ca. If we are not able to help you, we will refer you to someone that can.
[Clar.i.ty] Solutions is IN Business to Help YOU DO Business!!